Download the free Troywell VPN extension for Chrome
The fastest and most reliable VPN for Chrome
Troywell VPN is a free modern VPN extension, with an advanced encryption algorithm, for Google Chrome
The extension hides the user's IP address, so when you visit resources, your privacy and anonymity are always respected. Access the resources you're interested in freely through another country's IP using more than 50 of our servers.
Access to blocked resources
With the extension you can visit any resources, even those blocked by geolocation:
Social media.

Regional sites.

Torrents.

Messengers.

18+ sites.
If you connect via VPN, you will not be able to track your actions on the site.
Troywell VPN has many servers around the world, which means the connection will be fast and seamless.
No one can get access to your confidential data: passwords, details, correspondence. When working via VPN – the user is fully protected from fraud and data leakage.
The user's geolocation remains hidden, thanks to the location of the server and IP address in another country. All outgoing traffic is hidden from detractors and the ISP.
When surfing the Internet via wifi in a cafe, mall, or park, a VPN filters out dangerous sites and malware. Surfing the web becomes safer and more enjoyable.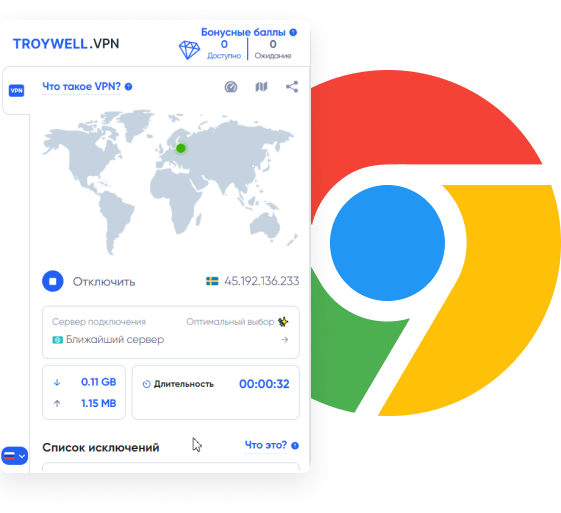 Thanks to modern and advanced encryption system in Troywell VPN, outgoing and incoming information is hidden from scammers and hackers. VPN for Chrome will help hide your search history and provide anonymous browsing.
Robust encryption protocols protect user data and files, no one else can invade your privacy.
Card data, phone numbers, online purchases will remain completely confidential. Install a VPN and forget about intrusive advertising calls and messages.
Three free versions of Troywell VPN
Перейди на новый уровень серфинга в Сети: безопасный, быстрый и бесплатный. 
Lite
Includes 25+ geolocations. Connection is made through a proxy server.
Middle
Includes 251+ geolocation connection options. The connection is made through a proxy server or wifi server.
Pro
Includes proxy, wifi and mobile proxy connections.
When you download either version, you get bonuses from Troywell Diamonds
When purchasing products, the user receives bonuses. The system works without additional installation of plugins and registration.
When you download any of the versions, a coupon system is available. A product discount or promo code is automatically applied. The user no longer needs to search for and understand the system of promo codes. Customers also get bonuses for applying a promo code.
Why download a free VPN extension for Chrome?
User Reviews
Over 50K users have chosen Troywell VPN
A very handy extension. With it, I can easily go to foreign stores that are open only for one or two countries. You change the IP address in the settings and voila, you no longer live in Russia, but in the USA.
Vitaly Melekhin

I have been using Troywell for a long time, there are minor inconveniences (it often asks for some password and login, the window crashes with some kind of obscure character set). Otherwise, simply the best vpn!
Miron Nuryagdyiev

I am satisfied with all service stations! A very handy add-on that easily opens any site for me, even when the RKN is blocked.
Sancho Live

Troywell works great, but it will be even better if you add all languages ​​​​in the settings for Chrome, and preferably Russian.
Pavel Drigin

Troywell VPN is a revolutionary free service for Chrome, which provides quality services to use the virtual part of the network at home and at work on PC, and mobile. For customers, the company guarantees the quality of information transfer, excellent speed, removal of regional restrictions. VPN will help protect your device from hacking, and surfing the Internet will become completely anonymous and safe.
On the official website of Troywell VPN it is possible to download one of the versions of VPN, which is suitable for work and entertainment. All versions are free of charge.
Choose any country from the list and connect. To change the country - disconnect from the previous connection and connect a new one.
1. Install Troywell VPN
in Chrome Store . .
2. Restart. 3. Open the extensions panel. 4. Add a VPN to it (if it's not there). 4. Click connect. 5. Use with pleasure!
Troywell VPN has a free mobile trial. Download the extension on your phone and install the app.